10 FREE DaVinci Resolve Templates
Last UpdatedOctober 25, 2023
by

Anthony Gallo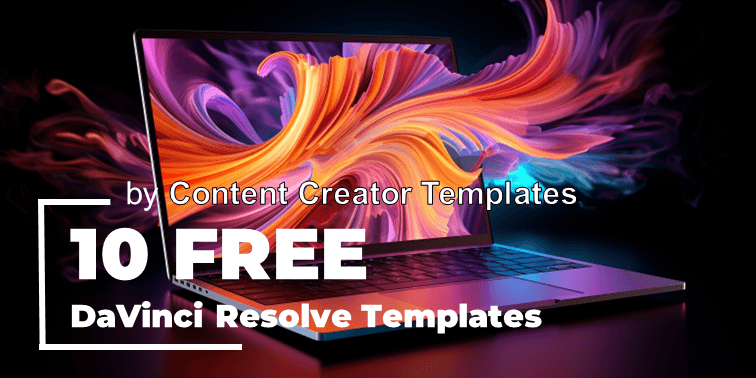 Here at Content Creator Templates, we've used our years of video editing experience to put together the best DaVinci Resolve templates for creators and filmmakers anywhere on the internet.
In this article, you'll find a download link to 10 of the most popular FREE DaVinci Resolve templates courtesy of us right here at Content Creator Templates.
10 Free DaVinci Resolve Templates
1. Clean Modern Titles
Clean Modern Titles from Content Creator Templates are an excellent free addition to get your DaVinci Resolve templates collection started.
With their unique designs, these title templates are a great fit for social media and YouTube creators and we deigned them to be compatible specifically with DaVinci Resolve, meaning they're super easy to install and get started.
Boost the style of your next video project with this must-have free DaVinci Resolve animated text template from Content Creator Templates.
2. Cinematic Intro Title Pack
These Cinematic Intro titles are a favorite amongst creators looking for an easy way to level up with some free DaVinci Resolve templates.
These free DaVinci Resolve intro templates feature elegant and modern designs that are fully customizable and fast rendering. The free DaVinci Resolve templates comes with easy access to the best fonts too.
Forget spending hours trying to design your own DaVinci Resolve template, click the link to download these free template files and get started now!
3. Professional Glitch Intro Template
These free DaVinci Resolve templates are honestly a steal for professional glitch intro effects and will make an incredible addition to your editing template files.
If your video projects are in need of some elegance, style, or clean designs than these easy to use glitch intro titles might be just what you need.
They're multipurpose templates and can be used for titles, lower thirds, or video transitions, so click below to get this best free DaVinci Resolve template, it's an absolute steal!
4. Cinematic LUTs DaVinci Resolve Templates
This free Cinematic LUTs pack contains professionally developed Cinematic LUTs you can use for all of your projects, made by us right here at Content Creator Templates!
This free DaVinci Resolve template cinematic LUT pack contains 24 high quality Rec 709 LUTs which can be immediately used in your DaVinci Resolve color grading video projects.
These LUTs are the best I've seen for adding a cinematic look to your edits and are an essential for quality color grading and color correction, best of all, they're 100% FREE!
Click below and get your free DaVinci Resolve templates delivered to your inbox.
5. DaVinci Resolve Dynamic Slideshow Templates
This free DaVinci Resolve template features easy to customize slideshow effects and is perfect for those who want a professional-looking video in the absolute fastest time possible.
With little video editing skills required, this project has all of the text and transitions preset in the template so you can be up and running in just a few clicks.
All you have to do is swap out the video content and it's ready to go! This would work perfectly as a intro for your YouTube channel.
You know the drill - click the link to get your Dynamic Slideshow Free DaVinci Resolve template!
6. Macro Lower Thirds Templates Pack
If you're sick and tired of spending all your time creating lower thirds, this free DaVinci resolve template pack might just save the day!
Maybe you're looking for a simple animated title but not sure how to create it yourself? We've got you covered with these easy to use titles from our Pro Titles Macro Pack for DaVinci Resolve.
These are clean, dynamic and easy to use. They can be used for conference reels, professional videos, and for your own creative projects, and best of all, they're absolutely FREE.
7. Blue Paper Grid Background
This free DaVinci Resolve template will make an excellent addition to your existing video templates. Simply download the file and drag and drop it in to your next clip!
We use these all of the time in our YouTube content, our course content, and even for our client commercials!
This free DaVinci Resolve template is compatible with all major editing software and extremely easy to use!
8. DaVinci Resolve Shape Transitions
These Simple Shape free transitions for Davinci Resolve are a modest yet impactful way to grab the attention of your audience and keep it.
This transition templates pack from Content Creator Templates contains over 35 professionally made transitions including left and focus switch, and a shape twist transition that will easily level up your YouTube content!
All of these transitions are simple overlays, meaning you can import them to work in ANY editing program. Simply drag, drop, and customize to your liking!
9. DaVinci Resolve 8mm Film Burn Templates
These video mask 8mm film burn templates for DaVinci Resolve are prefect for adding an old school retro look to your video.
The subtle animation of the film burns allows you as a video creator to add a unique touch to others or your own content, best of all, you can download it for FREE and be using it within minutes!
You can learn how to use DaVinci Resolve templates, film mattes, lens flares, and blending in under 5 minutes from my video on Content Creator!
10. Channel Subscribe Overlays
Upgrade your YouTube video content with this free YouTube Intro With View Counter template!
As part of our DaVinci Resolve intro templates collection, this animated channel container adds aesthetic value and features a built-in view counter for increased engagement.
A must-have for serious YouTubers looking to boost their subscriber count and make your channel appear way more professional!
Download Your FREE DaVinci Resolve Templates
Want your free DaVinci Resolve template pack courtesy of Content Creator Templates?
Enter your details below and we'll deliver these 10 FREE DaVinci Resolve templates to your inbox instantly!
Content Creator Templates provides content creators, editors and video producers with subscription based service providing unlimited downloads of a massive range of digital templates and assets for enhancing video projects.
Content Creator Template's library features motion graphics, titles, transitions, overlays, and more for DaVinci Resolve, Adobe Premiere Pro, After Effect, and Final Cut Pro.
Click here to get unlimited downloads with Content Creator Templates.
How to Install DaVinci Resolve Templates?
Depending on the type of template you're looking to install, there are a few different methods for installing templates in DaVinci Resolve. Here's how to use DaVinci Resolve templates:
Adding LUTs in DaVinci Resolve
Place the downloaded LUT files into the LUTs folder within the DaVinci Resolve directory. Then, restart DaVinci Resolve, go to the Color workspace, and your new LUTs should appear in the LUTs panel for selection. Check out our best LUTs for DaVinci Resolve.
Adding Transitions in DaVinci Resolve
Move the downloaded transition files to the Transitions folder in the DaVinci Resolve directory. After restarting the software, these transitions will be available in the Effects Library under the Transitions tab.
Adding Titles in DaVinci Resolve
Import the downloaded title templates into the Titles folder within the DaVinci Resolve directory. Once you restart the program, these titles will be accessible from the Effects Library under the Titles section.
Wrapping Up
Today, we were feeling generous here at Content Creator Templates.
We decided to put together 10 of out most popular DaVinci Resolve templates and make the FREE for you to download!
We hope you like your free design assets for DaVinci Resolve! If you want to learn more about DaVinci Resolve, check out the best DaVinci courses!

Anthony Gallo
Anthony Gallo is the cofounder of ContentCreator.com and lead educator in the online course 14 Day Filmmaker, that has taught over 100,000 aspiring creators how to shoot & edit professional video content with PRO and SMARTPHONE cameras.
Having created content in a variety of industries including commercial advertising, weddings, music videos, and hundreds of youtube videos, Anthony has amassed over 50 million views online and is constantly looking for new and engaging ways to create content and help others master this amazing craft.