17 Best DaVinci Resolve Title Templates (Free & Paid)
Last UpdatedOctober 12, 2023
by

Anthony Gallo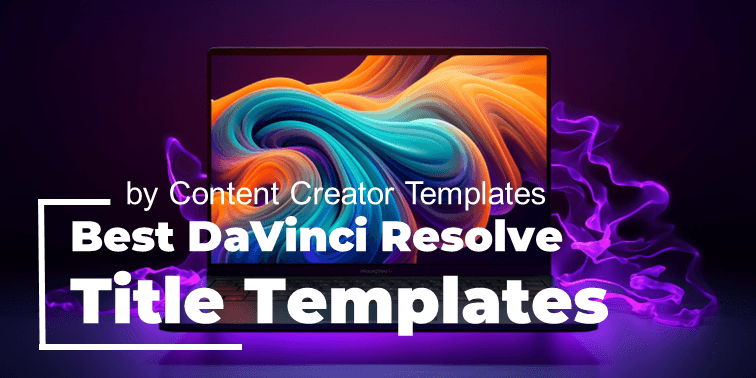 Over the years I've spent my fare share of hours building unique title templates for DaVinci Resolve.
After spending so much time creating my own titles I figured why not share some of them with other creators?
These DaVinci Resolve titles are the best templates available right now for creators looking to save time and improve the look of their content.
In this article, I'll guide you through the 15 best DaVinci Resolve title templates, outlining both the best free and paid options.
What Are the Best DaVinci Resolve Title Templates?
There are a range of factors that make up a great Title template for DaVinci Resolve:
Compatibility with DaVinci Resolve: Ensure the title templates are fully compatible with the latest version of DaVinci Resolve.
Variety of Styles: Look for a mix that includes glitch titles, motion graphics, and other creative styles to suit different video projects.
Customization Options: Opt for title templates that offer a range of customizable elements like adding custom text, color, and effects to make your titles unique.
Ease of Use: The best DaVinci Resolve title templates should be user-friendly, even for those who are new to motion graphics or video editing.
Eye-catching Designs: Choose templates that stand out and can capture an audience's attention, whether it's for social media or other platforms.
Updates: Always check if the template comes with support and future updates to keep up with both the current trends and DaVinci Resolve's features.
Cost-Effectiveness: Consider both free and paid options, evaluating which offers the best value for your needs.
User Reviews and Ratings: Check out reviews and ratings to gauge the quality and reliability of the title templates.
Licenses: Be sure your title templates have an unlimited license so you can use them in all your content.
I've made sure the following templates tick all the boxes so you don't have to worry! Let's get into it. 👇
1. Cinematic Intro
Discover the Cinematic Intro Titles pack from Content Creator Templates, designed specifically as a DaVinci Resolve template. Offering a new macro for easy controls, this titles pack lets you effortlessly change colors, fonts, and positions.
Try experimenting with some different color and size combinations on your next video with these eye-catching titles for DaVinci Resolve!
Get your FREE DaVinci Resolve Templates delivered directly to your inbox! Consider these DaVinci Resolve free templates as a welcome gift from us here at Content Creator Templates. 👋
2. Clean Modern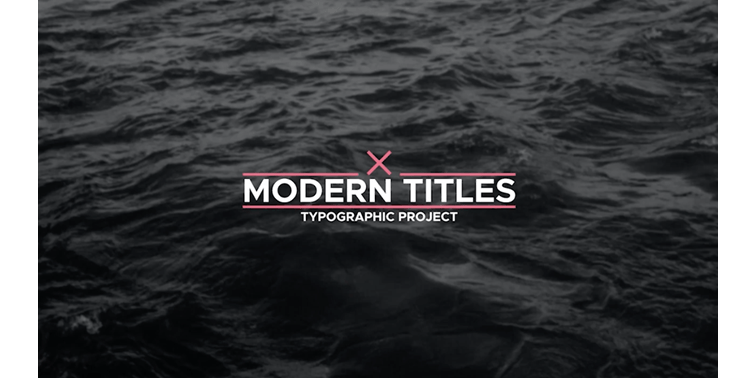 Introducing Clean Modern Titles, a sleek addition to your DaVinci Resolve title templates collection. These are perfect for social media and YouTube creators, Clean Modern Titles are compatible specifically with DaVinci Resolve.
These titles templates brings a minimalist yet impactful design to your video projects. Boost your online presence with this must-have resource from Content Creator Templates.
3. Event Promo
Elevate your event promotions with these Event Promo titles, part of our DaVinci Resolve title templates collection. With just a few clicks, you can add a polished, engaging touch to any event video, ensuring it captures attention and excites your audience.
Ideal for fast-paced editors and promotors looking to get the job done!
4. Elegant Creative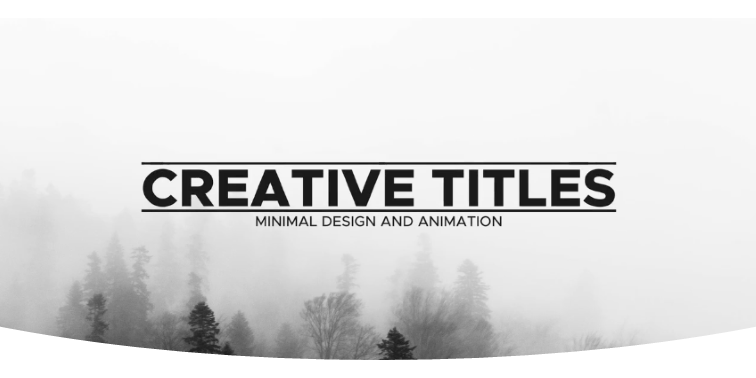 Transform your video projects with Elegant Title Presets from Content Creator Templates. This set includes modern glitch titles along with a detailed instruction guide so you can easily get started and add your own personal touches.
Boasting an array of template features, these presets offer a blend of sophistication and edge, making them a great choice for a wide range of applications.
5. YouTube Intro
Upgrade your YouTube video content with the YouTube Intro With View Counter. As part of our DaVinci Resolve intro templates collection, this template not only adds aesthetic value but also features a built-in view counter for added engagement.
A must-have for serious YouTubers looking to impress their audience. Use it to boost your subscriber count and make your channel appear way more professional!
6. 3D Metal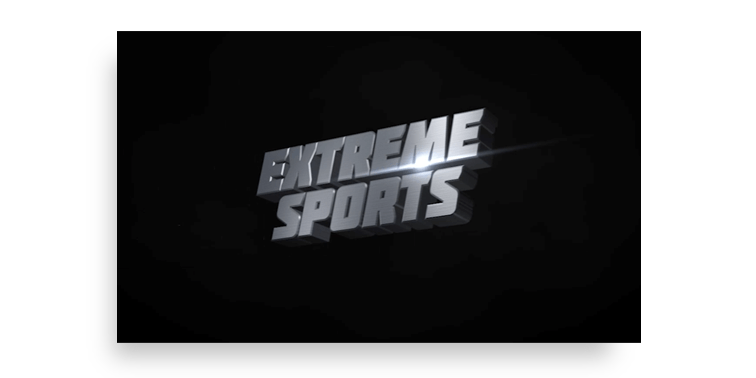 Take your sports videos to the next level with 3D Metal Titles. As a standout in our DaVinci Resolve templates selection, this template brings a rugged, metallic flair that's perfectly suited for high-action and tough content.
Compatible with your favorite video editing software DaVinci, it's the ideal choice for sports enthusiasts and creators looking to add some tough and rugged titles to their next clips.
7. Bold Title Macros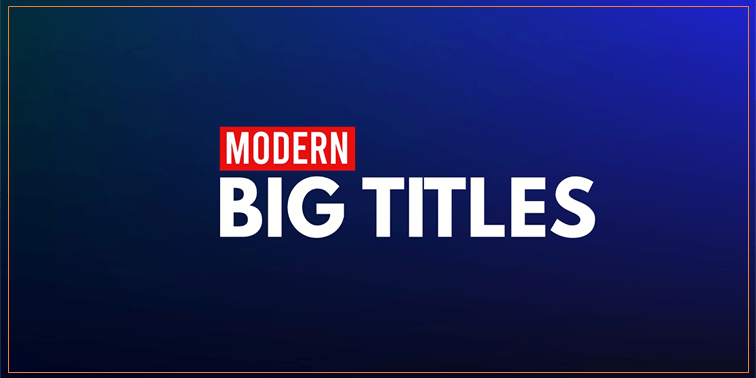 Enhance your videos with these Bold Title Macros from Content Creator Templates, a set of templates for DaVinci Resolve designed to capture and maintain attention. With a modern, bold aesthetic, these macros fit seamlessly into your video editing workflow.
Click the link to download and start creating compelling, engaging content with these DaVinci Resolve Templates. Perfect for editors looking for that corporate look in their creations.
8. Clean Sliding Intro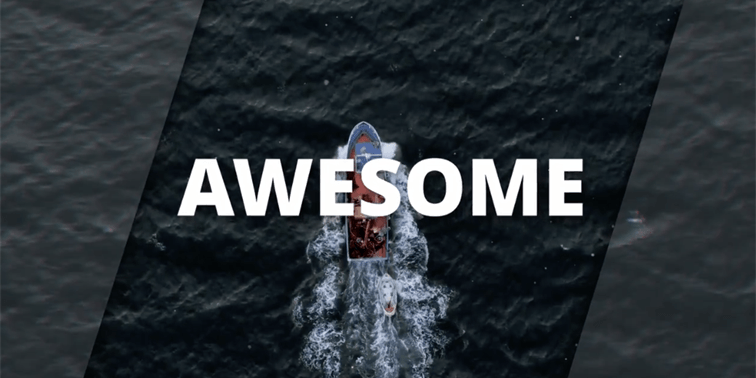 Elevate your projects with this Clean Sliding Intro title, a DaVinci Resolve title template pack that features a bold slide-in title with a sleek transition.
This set of DaVinci Resolve templates adds a smooth, professional touch to your videos, effortlessly integrating into your existing workflow with just a few clicks! Perfect for high energy sports or action creators looking to add a bit more punch to their titles.
9. Fitness Studio Titles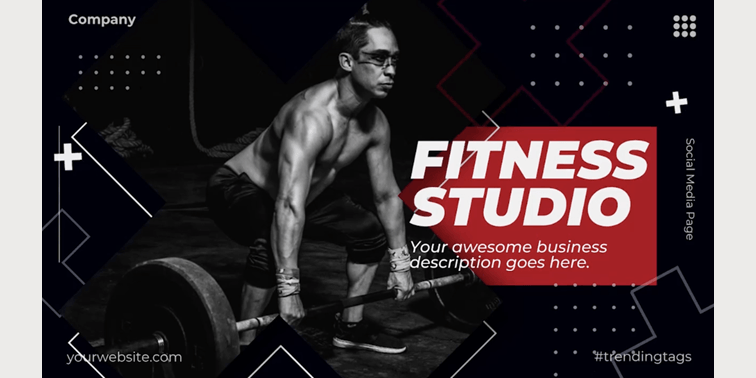 Fitness Studio Titles are the perfect templates solution for fitness content creators and gym enthusiasts. Designed for video editors with social media in mind, this dynamic template adds the finishing touches to any workout or wellness video, helping you flex your brand's muscle online.
Forget the boring stock templates in DaVinci Resolve, add these to your workflow to boost originality and engagement.
10. Freeze Frame
Add a dramatic flair to your videos with these Freeze Frame Cartoon Titles, the DaVinci Resolve template designed to make introductions pop!
Ideal for introducing new characters or creating a Looney Tune effect and noir-style films, this is the best template to inject excitement and uniqueness into your projects.
It's super unique and easy to use too!
11. Testimonials
Capture audience attention with Testimonial Titles & Animations, a DaVinci Resolve title template specifically designed to elevate client testimonials.
Easy to use and fully customizable, these titles for DaVinci Resolve can be adjusted in size to fit your needs. Ideal for advertisements, presentations, and other promotional content, this template ensures your video testimonials stand out to new and old customers alike.
12. Modern Macro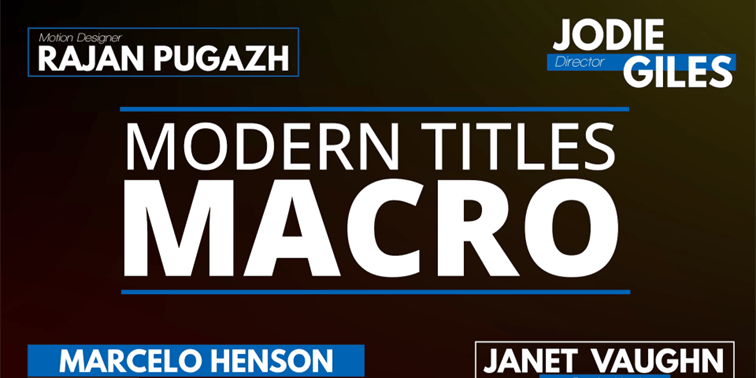 Optimize your editing process with the Modern Macro Pack, a collection of DaVinci Resolve templates designed for effortless titling and introductions.
Just drop them into your timeline and type in your text! It honestly couldn't be easier. These versatile DaVinci Resolve templates can also be used for streamlined lower thirds, allowing you to focus more on your edit.
Versatile, cheap, and easy to use.
13. Big Clean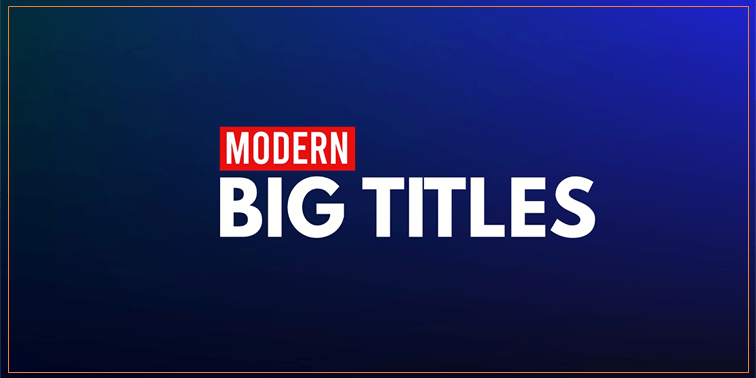 Elevate your content with Big Clean Titles, a DaVinci Resolve template versatile enough for a range of applications, from corporate presentations to social media videos.
This template serves as a go-to resource for all your titling needs, offering both professionalism and creativity in one package. Easy to customize these titles are perfect for editors looking for simple solutions.
14. Clean Minimal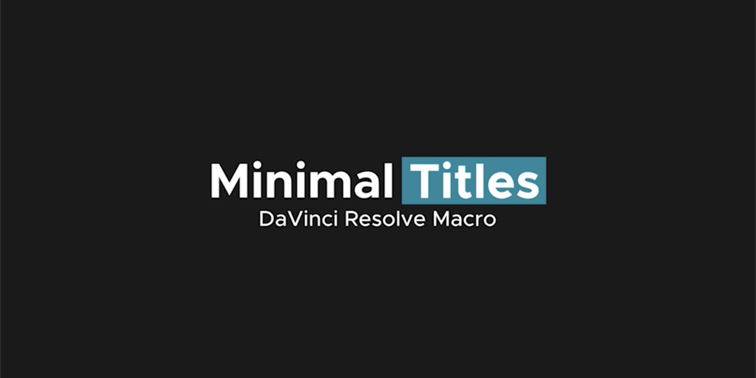 Clean Minimal is the perfect choice for corporate presentations, offering high-quality templates that seamlessly integrate into your professional projects.
Can even be used as transition templates or lower thirds templates, providing a comprehensive solution for all your corporate video needs.
15. Neon Gradient Titles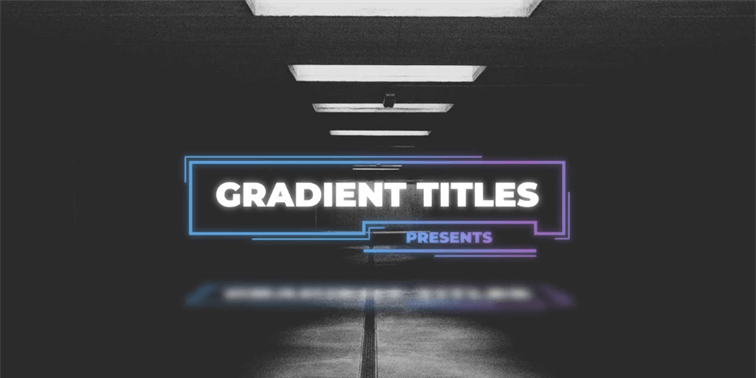 Illuminate your projects with Neon Gradient, a standout DaVinci Resolve template that brings a vibrant, electric flair to your content.
Ideal for any video project that requires a pop of color and energy, this template is a must-have addition to your collection of templates for DaVinci Resolve.
Excellent for suspenseful and retro content which is very popular at the moment.
16. Urban Intro Sequence
This Urban Intro Titles Sequence is one of my personal favorite title packs for travel and food content.
The ultra modern and sophisticated titles will set your content apart. You can see how much effort has gone into these DaVinci Resolve title templates!
Easy to use yet sophisticated enough to set you apart from the pack.
17. Split Screen Sequence Titles
These incredible Split Screen Sequence DaVinci Resolve templates will add a modern and dynamic punch to your video edits.
One of the latest additions to out collection of powerful and unique title templates, these titles are perfect for collages and other creative projects.
Where Can I Find Free DaVinci Resolve Templates?
If you're looking for free DaVinci Resolve Templates you're in the right place! Click the link below to get your free DaVinci Resolve template courtesy of Content Creator Templates! There are also a range of free DaVinci Resolve Templates throughout this article. 🙂
If the free DaVinci Resolve template isn't enough to quench your thirst consider signing up to Content Creator Templates for unlimited downloads of titles, lower thirds, text overlays, the best LUTs and much more!
How to Install DaVinci Resolve Title Templates?
Installing DaVinci Resolve title templates is a straightforward process that can greatly enhance your video editing workflow. Here's a step-by-step guide:
Download Template: First, download the title template you want to install. This usually comes as a ZIP file.
Unzip File: Extract the downloaded ZIP file. This will usually contain .setting files, which are the title templates.
Locate Titles Folder: Open the DaVinci Resolve application. Go to the File menu and click on Project Settings. Navigate to Presets and find the location of the Titles folder on your computer.
Copy Files: Copy the .setting files from your extracted ZIP folder into the Titles folder located in your DaVinci Resolve directory.
Restart DaVinci Resolve: Close and reopen DaVinci Resolve to refresh the application.
Access Templates: Open a project and navigate to the Effects Library. Under the Titles section, you should now see your newly installed templates.
Drag and Drop: To use a title template, simply drag and drop it onto the timeline.
Customize: Double-click on the title to open it in the inspector, where you can modify the text, colors, fonts, and other elements as per your needs.
And there you have it! Your free DaVinci Resolve template should now be installed and ready for use.
Best Practices for Using Title Templates in DaVinci Resolve
When it comes to adding the finishing touches to your next project, using title templates in DaVinci Resolve can significantly streamline your workflow. However, to make the most out of these resources, there are certain best practices to consider:
Logo Reveal: If your project involves branding or company identity, a logo reveal at the beginning or end of your video can add a professional touch. Many title templates come with logo reveal options that are easily customized to fit your brand's look and feel.
Text Overlays: Text overlays are often the most direct way of conveying information in your videos. Whether you're creating corporate presentations or music videos, make sure to choose templates that allow for text overlays that can be easily customized to match the tone and style of your project.
Utilizing More Advanced Tools: DaVinci Resolve offers a range of more advanced tools like color grading and complex transitions. Don't hesitate to combine these with your title templates to create a polished final product. For instance, you could match the color grading of your title to the overall palette of your video for a cohesive look.
Hidden Text Box: Some title templates come with a hidden text box feature that can be revealed through animations or interactions. This is particularly useful if you want to create an element of surprise or emphasize specific pieces of information.
Easily Customized Elements: The beauty of high-quality title templates lies in how easily they can be customized. Look for templates that allow you to adjust not just the text but also the fonts, colors, and other visual elements to make your project truly unique.
Minimal Design for Specific Applications: While flashy titles might work for entertainment or music videos, projects like corporate presentations often require a minimal design. Opt for templates that offer a range of styles, so you have the flexibility to match the tone of your project.
Music Videos and Audio Syncing: In the case of music videos, consider templates that allow for audio syncing, where the titles or text overlays pulse, move, or change according to the beat or melody of the music.
Video Tutorial References: If you find yourself stuck or wish to make more complex customizations, check out video tutorials. Many template creators offer tutorials that walk you through the features and customization options of their templates.
By adhering to best practices in DaVinci Resolve, you can ensure that you not only make your editing process more efficient but also produce a final project that looks professional and gets the best engagement for your viewers!
Wrapping Up
Today we looked at 15 of the best DaVinci Resolve title templates from Content Creator Templates.
Sprinkled throughout the article you'll find free title templates to get you started on your journey!
If you loved the DaVinci Resolve free templates here consider upgrading the free version and subscribing to Content Creator Templates for unlimited resources!

Anthony Gallo
Anthony Gallo is the cofounder of ContentCreator.com and lead educator in the online course 14 Day Filmmaker, that has taught over 100,000 aspiring creators how to shoot & edit professional video content with PRO and SMARTPHONE cameras.
Having created content in a variety of industries including commercial advertising, weddings, music videos, and hundreds of youtube videos, Anthony has amassed over 50 million views online and is constantly looking for new and engaging ways to create content and help others master this amazing craft.